Montessori Sure Start nursery opens
Catherine Gaunt, 15 July 2009, 12:00am
The first Montessori Sure Start children's nursery has opened with a commitment to provide flexible, affordable Montessori education and childcare for all children in the community, including vulnerable and 'hard to reach' families.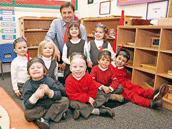 Oaklea Montessori at the Windmill Children's Centre in Harwich, Essex, opened on Monday. The nursery is initially taking children from birth to three and will be open for three- to five-year-olds taking the free early years entitlement from September. It is registered for 40 places from 8am to 6pm, 50 weeks a year.
Manager Caroline Allen said, 'In spite of difficult economic times and a shortfall in grant funding we have been able to open.' The nursery is a Community Interest Company, which Ms Allen described as 'halfway between a charity and a private company. All our assets are locked into the community'.
Ms Allen, who also runs Oaklea Montessori nursery in Colchester and has Early Years Professional Status, said she was attracted to running a nursery in a children's centre because of its inclusive nature. 'This has to attract all families and is completely open to all. It chimes with the roots of the Montessori movement.'
Philip Bujak, chief executive of Montessori Schools Association, said there were plans to open more Montessori nurseries in children's centres and discussions with the local authority to open a second Montessori nursery at a Southend children's centre.
There are currently five Montessori state primary schools.
Negotiations are under way with Sheffield and the Black Country Schools Partnership to convert five state primaries as well as two primary schools in London.
Mr Bujak said there had been 'a huge growth' in the number of pupils in Montessori schools, with more than 40,000 children now in Montessori education and increasing numbers of people wanting to train as Montessori teachers.
Last week, shadow children's secretary Michael Gove said that a Conservative government would expand Montessori and Steiner schools with state funding.
Mr Gove said, 'If we are about enabling choice and diversity, it is only right to allow both movements to become essentially state-funded schools.'
Mr Bujak said the Conservatives 'have recognised the Montessori method as a viable alternative for parents, not as a private school alternative', adding, 'We want to have a Montessori specialist in every primary school, just like every school has a music teacher.'
Janni Nichol, early childhood representative for the Steiner Waldorf Schools Fellowship, said she welcomed the Conservatives' backing. 'We certainly see this as very positive. We hope this will apply to Steiner Kindergartens.'