Provision
Nursery World's Noticeboard - Ofsted outstanding, a science experiment and Big Tidy Up
10 December 2012, 12:00am
See what nurseries across the country have been up to.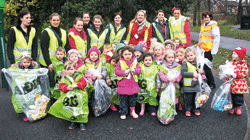 TOP MARKS FOR ESSEX PRE-SCHOOL
Buttsbury Pre-School in Billericay, Essex has been rated outstanding in its most recent Ofsted inspection.
The pre-school's business manager, Julie Crosby, said, 'This is a fantastic achievement for our staff team, committee and children. Having re-opened our pre-school one year ago, we have worked hard to ensure our children continue to receive quality care and education.'
BUDDING SCIENTISTS
Children at Nursery on the Green in Frimley Green, Surrey, learnt about floating and sinking as part of their weekly science activity.
KEEPING BRITAIN TIDY
Children at Kids Planet Day Nursery in Lymm, Manchester helped to pick up litter in the park they visit daily as part of the Keep Britain Tidy campaign.
OUTSTANDING HAT TRICK
Staff at Kiddi Caru's Harlow Day Nursery in Essex are celebrating after achieving an Ofsted outstanding rating three times in a row. The nursery's most recent inspection took place in October. Inspectors praised the setting for its variety of rich and imaginative experiences for the children in its care and the expert knowledge of staff.
HAPPY BIRTHDAY
Portico Day Nurseries celebrated the tenth birthday of its first setting, Portico Lodge in Eccleston Park, Merseyside, with a party for past and present staff, children and their parents.
MAKING A DIFFERENCE
New Beginnings in County Durham raised nearly £600 for a local charity that supports babies and toddlers with epilepsy and their families. The charity, Small Steps Seize the Day, is very close to the setting's hearts as a child they care for has a very rare form of epilepsy.
The money, which the setting raised through a number of activities, will go towards paying for trips out and group sessions for children with the condition.
CHILDMINDERS EXCEL
Eighteen childminders from Northamptonshire celebrated gaining level 3 diplomas. The course, organised by Northamptonshire Childminding Association and delivered by YMCA Training, was designed to help prepare childminders to deliver the free childcare places for vulnerable two-year-olds.
BUSY BEES MEET KELLY HOLMES
Children, parents and staff from Busy Bees Nurseries presented the Dame Kelly Holmes Legacy Trust (DKHLT) with a giant cheque for £53,000, raised through the nursery group's Golden Mile initiative. More than 11,500 children from Busy Bees' 136 nurseries took part in the initiative for which they had to complete a total of two to ten miles of physical activity throughout the year while raising money for the DKHLT.
To celebrate, Dame Kelly Holmes invited Busy Bees to Grosvenor House in London to thank them for their commitment to fundraising.
Do you have a story to tell? Share it with us at
news.nw@haymarket.com
.
The best photo received will win £30 worth of books and posters.