Policy and Politics
Childminder inspection campaign takes off
Catherine Gaunt, 14 May 2012, 12:00am
More than 2,600 childminders have so far taken the National Childminding Association's campaign survey to keep childminders regulated and inspected as individuals under the EYFS.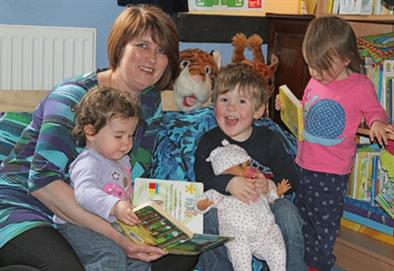 The NCMA's Individual Inspection Matters campaign has been launched in response to concerns that the Government is planning to take childminders out of the current inspection and regulation system.
In March, Ofsted chief inspector Sir Michael Wilshaw told MPs at the education select committee that regulating and inspecting childminders was too costly and said that he was in discussions with education secretary Michael Gove about how to make the inspection system more efficient, more effective, and provide greater value for money.
As Nursery World revealed in March, Ofsted spends six times as much on regulating and inspecting a childcare place with a childminder than it does on group settings.
Conservative MP Elizabeth Truss has also said that she is in favour of the system used in the Netherlands, which uses agencies to train and regulate childminders, and which she argues leads to greater numbers of childminders and to more affordable childcare for parents.
Liz Bayram, joint chief executive of the NCMA, told Nursery World that a number of different options are being considered.
From dialogue with Ofsted and the Department for Education, 'It's become increasingly clear the idea for a different model for childminder inspection is increasing,' she said.
The NCMA is concerned about a move away from individual inspection to a group approach, such as the agency model. It is meeting with children's minister Sarah Teather this week to discuss the issue (16 May).
It said the current system is valued by childminders, drives quality and is relied on by parents.
Ms Bayram said she did not believe that parents would want a system where it is the agency that is inspected rather than every individual childminder.
The agency model would only involve spot checks on a certain percentage of childminders registered with each agency.
One of the key arguments for the agency model is that it would reduce bureaucracy and costs and that any savings could be passed on to parents, but Ms Bayram questions whether it would really be cheaper. 'When we look at the agency model it could make cost savings for Ofsted, but these costs could end up elsewhere in the system,' she said.
In the Netherlands, childminders also pay an agency a percentage of their earnings in commission to market their services. 'This is a conflict of interest,' said Ms Bayram. 'The current system keeps regulation and inspection separate. Ofsted set and ensure minimum standards. There is a statutory duty on local authorities to provide ongoing support and training. Ofsted judgements drive local authority judgements about what sort of training to offer.'
Ms Bayram proposed that an alternative approach, which could also cut costs, could be a 'licence to practice' model - an idea suggested by Professor Cathy Nutbrown in her review of qualifications and training.
'If childminders and early years practitioners had to meet certain standards to gain a licence to practice and commit to ongoing continuing professional development, this would mean that the inspection process and costs could be reduced,' she said.
She added, 'The Government requires growth in childminder numbers and to deliver the two-year-old offer. If you take the current system away, you will regress that.'
CASE STUDY
Jane Comeau from Tunbridge Wells has been working as a professional childminder since 1995 and has twice been awarded 'outstanding' by Ofsted. She was recently elected NCMA's vice-chair.
'My first reaction to the proposals was one of incredulity,' she said. 'My big concern about taking childminders out of the current regulations is the care and safeguarding of the children if there isn't a rigorous process in place to protect the integrity of the profession from some who may then join.'
Jane has a BA in Early Years and last year gained Early Years Professional Status. She added, 'Childminders are professionals and the majority train and undertake CPD to a very high standard. It's important that we have a level playing field with pre-schools and nurseries to ensure variety of choice for parents. We're all delivering the EYFS, which supports our practice. Deregulation would be splitting the workforce again. We've worked really hard to get to a level playing field and I think that this would be a backward step.'
Jane also believes that using agencies could be open to abuse, with some members not striving to the standards that an individual inspection promotes.
She said, 'Inspection pushes standards up - 71 per cent of childminders are graded good or outstanding by Ofsted. If the Government can reduce the costs of the inspection system then that is a good thing, but childminders should retain individual inspection.
'Childminders must feel that their professionalism is respected and parents will need to be confident that childminders are of a professional standard.'
Jane currently has 19 children on her books. She has a variation from Ofsted allowing her to be registered for four children under five, and is registered for six children under eight. Two of her children are accessing the three-and four-year-old entitlement.
She has also been part of the pilot scheme for disadvantaged two-year-olds. Jane said, 'It was very important for this particular child to be in a smaller setting. Now she is in a preschool and thriving, but she needed that one-to-one time to start with. We worked a lot on her personal, social and emotional development. If they take childminders out of Ofsted registration, would they take away the funding for childminders to offer two-year-old places?
'There's a huge workforce perfectly placed to deliver that, so they should be considering that.
'The current system is valued by parents and childminders and it is essential that we are inspected as individual childminders or our sustainability will be at risk with loss of confidence of parents.
'The current system allows childminders to demonstrate to parents that we can provide their children with high-quality learning and development within a safe, secure home environment, with a professional and good-quality service.'